Journal of the World Aquaculture Society Editor's Choice Awards for October 2019
June 24, 2020
Editor's choice awards for the October 2019 (50-5) of The Journal of the World Aquaculture Society have been announced.
World Aquaculture Society | Wednesday, October 30, 2019
Interactive effects of family and stocking density on survival and growth of the sea urchin Strongylocentrotus intermedius
Zhang, W., X. Chen, H. Jiang, Z. Wang, B. Wang, Y. Zhan, S. Qi, and Y. Chang
The sea urchin, Strongylocentrotus intermedius, is an important cultured species in China. Results from previous selective breeding studies have suggested interactive effects of genetics and culture practices. Zhang et al. (2019), in a 10-month growout trial conducted under commercial, sea-water conditions, found evidence of significant family by stocking density interactions on growth, suggesting that greater attention should be paid to these effects.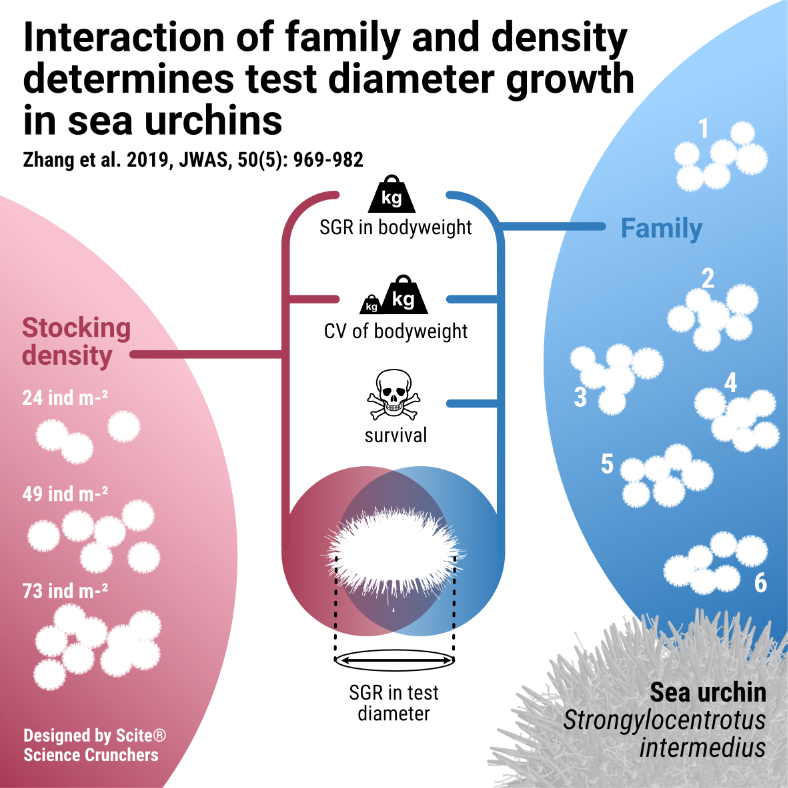 [Full Article]
---
Controlling preharvest maturity in farmed Arctic char: A review from the Canadian perspective
Yossa, R., A. Bardon-Albaret, M. A. Chiasson, Q. Liu, J. Duston, T. Manning, and T. J. Benfey
Early maturation of Atlantic salmon raised in land‐based, closed containment water recirculation aquaculture systems has created economic challenges and spurred research efforts to identify appropriate management strategies. Yossa et al. (2019) review the current literature on early maturation in Arctic char, offering useful insights on knowledge gaps and research directions that have important implications for commercial production of this species.[Full Article]
---
Bacteriological water quality of recirculating aquatic systems for maintenance of yellowtail amberjack Seriola lalandi
M. E. Garcia-Mendoza, J. Cáceres-Martínez, R. Vásquez-Yeomans, and R. Cruz-Flores
Yellowtail amberjack Seriola lalandi are a valuable marine fish for which aquaculture technology has made considerable advances. Reducing disease losses in the hatchery phase would reduce fingerling costs. Garcia-Mendoza et al. (2019) present the first report on bacteriological quality in recirculating aquaculture systems (RAS) for this species, contributing to understanding of disease management for this species and in land-based RAS.[Full Article]
---
Embryonic development in corkwing wrasse, Symphodus melops
Gonzalez, E. B., I. Torstensnes, and M. Naito
Development of efficient aquaculture methods for cleaner species used to control sea lice is critical to the Atlantic salmon net pen industry. Little is known of the basic reproductive biology of corkwing wrasse, Symphodus melops, principal cleaner fish species. Gonzalez et al. (2019) describe the embryonic development and effects of temperature on egg viability of this species, contributing to commercial efforts to culture cleaner fish for the Atlantic salmon industry.[Full Article]