Journal of the World Aquaculture Society Editor's Choice Awards for April 2020
June 24, 2020
Editor's choice awards for the April 2020 (51-2) of The Journal of the World Aquaculture Society have been announced.
World Aquaculture Society | Wednesday, April 15, 2020
Performance and welfare of Atlantic salmon, Salmo salar L. post‐smolts in recirculating aquaculture systems: Importance of salinity and water velocity
Ytrestøyl, T., Takle, H., Kolarevic, J., Calabrese, S., Timmerhaus, G., Rosseland, B. O., Teien, H. C., Nilsen, T.O., Handeland, S.O., Stefansson, S.O., Ebbesson, L.O.E., and Bendik F. Terjesen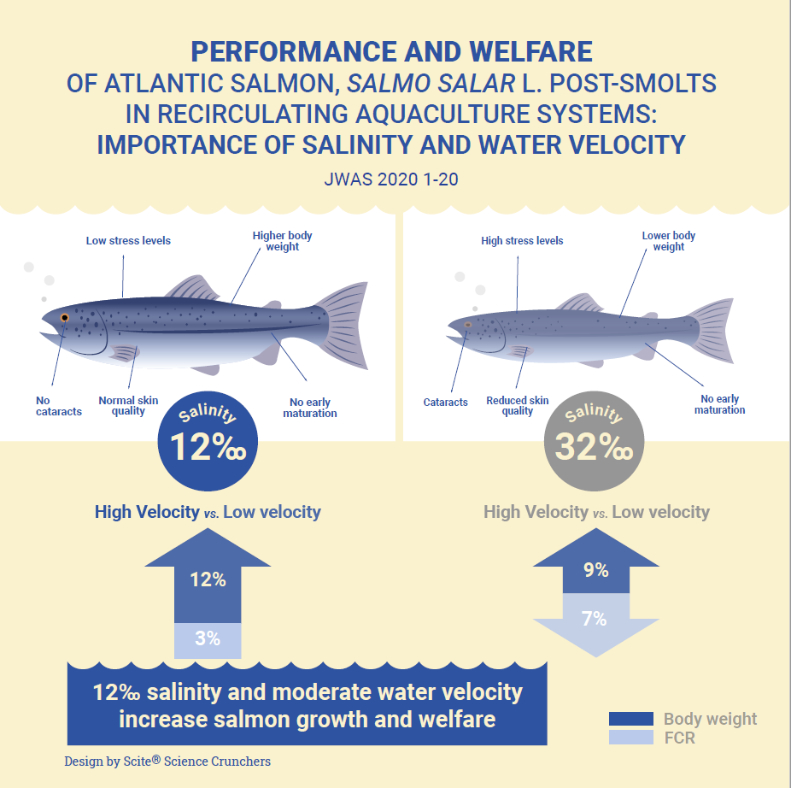 [Full Article]
---
Validation of Edwardsiella ictaluri oral vaccination platform in experimental pond trials
Wise, D.J., Greenway, T.E., Byars, T.S., Kumar, G., Griffin, M.J., Khoo, L.H., Chesser, G. and John Lowe
Oral vaccinations promise significant economic benefits beyond loss reductions in finfish aquaculture. Wise et al (2020) evaluated oral delivery of a live-attenuated Edwardsiella ictaluri vaccine to Channel catfish fingerlings under simulated commercial conditions. Vaccination increased the survival and total yield while also improving FCR and feed fed. Yields in fingerling operations were estimated to improve more than $3,500/ha ($1,400/acre) over three years of operation.[Full Article]
---
Effect of a peptide complex on the defense mechanism of shrimp, Marsupenaeus japonicus against pathogens and changes in environmental parameters
Linh, N.T.H., Sudhakaran, R., Itami, T., and Yousuke Taoka
Pathogens combined with variations in abiotic conditions can severely effect animal health. Peptide complex extracted from chicken egg yolk stimulated the immune system of Kuruma shrimp, Marsupenaeus japonicus, in response to pathogens and changes in environmental parameters. Under Vibrio challenge, temperature and salinity stress the administration of the peptide complex was effective in enhancing immune response and the tolerance of Kuruma shrimp to environmental changes[Full Article]
---
First assessment of the potential for coculture of sandfish (Holothuria scabra) with Babylon snail (Babylonia areolata).
Dobson, G.T., Duy, N.D.Q., and Paul C. Southgate
Tropical invertebrate cocultures are few but of high potential value. The authors of this study cultured sandfish, Holothuria scabra, at low (25 ind/m2; 46.75 g/m2), medium (50 ind/m2; 93.5 g/m2), and high (100 ind/m2; 187 g/m2) densities in monoculture and with Babylon snail, Babylonia areolata at 400 ind/m2 (208 g/m2). Sandfish survival was lower in coculture treatments but sandfish weight gain and absolute growth rate were around 37% greater in coculture. Land‐based pond coculture of sandfish and Babylonia development is strongly supported by the results.